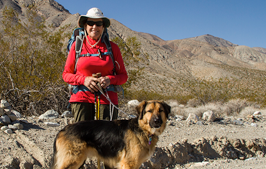 National Parks Adventure Series
Our National Parks Section combines history, exploration, photography, video and science to bring students and adults alike the wonders of America's National Park System, one of the best in the world. We will explore first-hand this priceless natural treasure.
The parks provide opportunities to view wildlife and nature at its best, and also offer unsurpassed hiking and recreational experiences. We will add each Park to the program as we continue to explore these beautiful and diverse places.
---
Helen Thayer is also producing children's books - at the 6th grade level - about her visit to each Park. Her german shepherd/golden retriever dog Sam will accompany Helen to each Park and will tell the story from his perspective.
---
Resources

The National Park Foundation (NPF) is the official charity of the United States' National Park Service (NPS) and its 418 national park sites. The NPF was chartered by Congress in 1967 to "further the conservation of natural, scenic, historic, scientific, educational, inspirational, or recreational resources for future generations of Americans" according to their slogan. The NPF raises private funds for the benefit of, or in connection with, the activities and services of the National Park Service. Their website has a lot of useful travel tips and interesting information about the park system.