ENDURING CULTURES
Long before Columbus visited North America there were cultures around the world, ancient even then, who had endured for generations by living in harmony with their environment. They still exist today.
We are privileged to have lived with various cultures worldwide. We are profoundly grateful for the insights these people offer when we set aside our western ways and integrate as much as possible into their societies. Our goal is to experience first hand these ancient ways and then to pass on what we learn to students through lectures, writing, photography, and the Adventure Classroom website. Simply stated: we seek a greater understanding of ancient lifestyles - to learn from beliefs and customs that differs from our own - in order to create a greater understanding of ourselves.
We are always fascinated by the practical sense of reality that exists in cultures that are often regarded as "primitive" compared to western cultures. Rather than "primitive" we instead have discovered a deep sense of family unity, insightful environmental accord, individual and group discipline, and a profound respect for elders.
Their reality is different from the western sense of reality. To exist at all, their reality deals with basic needs, their surrounding environment and challenges of survival. In times of famine for example, just how to make it through another day requires great ingenuity and practical skills. These societies are just as intricate as any western society, just in different ways. We often have little understanding of their ways; they usually have no concept of ours. It is vital that we strive to understand each other and the importance of all cultures, both western and ancient, in our diverse world. Toward that end, we present this section of brief observations of some of the people we have visited - to promote a deeper appreciation for enduring cultures that are successfully living on the earth.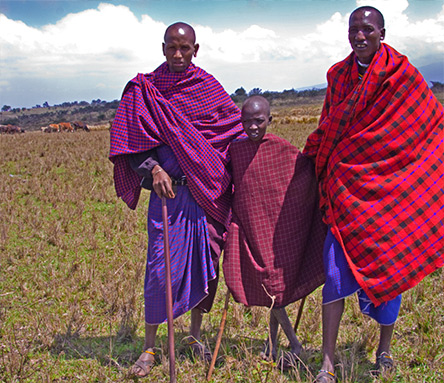 MAASAI - Tanzania
The Maasai are an indigenous, semi-nomadic people located in northern Tanzania and eastern Kenya along the Great Rift Valley. The land is semi-arid and supports a population of approximately one half million people. The Maasai are a cattle herding people and derive their entire sustenance from their precious herds. They live under a communal land management system and move their livestock with the seasons.
[SEE MORE]