POLAR DREAM JOURNAL
Our plane landed on the icy runway in Resolute Bay amid a flurry of fine-grained snow whipped into the air by the jet engines. I stared out the window surprised at the darkness that embraced the tiny settlement. It was mid-March and I had been told over the phone two weeks ago that I could expect nineteen to twenty hours of daylight by the end of March. I had hoped to begin my journey to the pole in long daylight hours so that I could see the polar bears more easily. I climbed down from the plane to greet Bezal, our host, and even before the usual salutations I asked with anxiety, "What happened to the daylight?" "Be patient, it'll come," he assured me. I hope so, I thought to myself. It could be a bit tricky living with polar bears in this darkness. We loaded my two seventy-pound red duffel bags onto his pickup truck, stuffed two more smaller bags and my camera gear inside the barely warm cab, and began the five or six-mile drive from the airport to the village. Resolute is really two settlements; the one surrounding the airport is known as the Base and consists mainly of government buildings, while the village is an Inuit settlement of small wooden houses clustered together along short, narrow streets that wander aimlessly without any real direction. Bezal and Terry's High Arctic Inn is at the edge of the village, and we arrived in time for Terry's plentiful dinner. We ate family style, with a half dozen other guests, who were dumbfounded when they learned I was going to walk to the magnetic North Pole. After dinner I began moving all my gear into the inn's garage where my sled and skis already sat in a corner. A few of the guests wandered over, obviously to check to see if they had understood me correctly. Two men from Germany who had come to hunt seals were appalled that a woman would actually try to walk to the pole. They looked at the .338 magnum Winchester rifle and the flare gun I intended to use for protection against polar bears and laughed. "This has far too much kick for a woman your size, you need something smaller." I drew myself up to my fu11 five feet three inches and told them, with as much conviction as possible, that the gun had been recommended to me by someone who hunted big game in Africa, and that I had joined our local gun club so that I could practice. Actually, I wasn't really sure that I had the right firearm. I had never before been given so many conflicting pieces of advice in my life.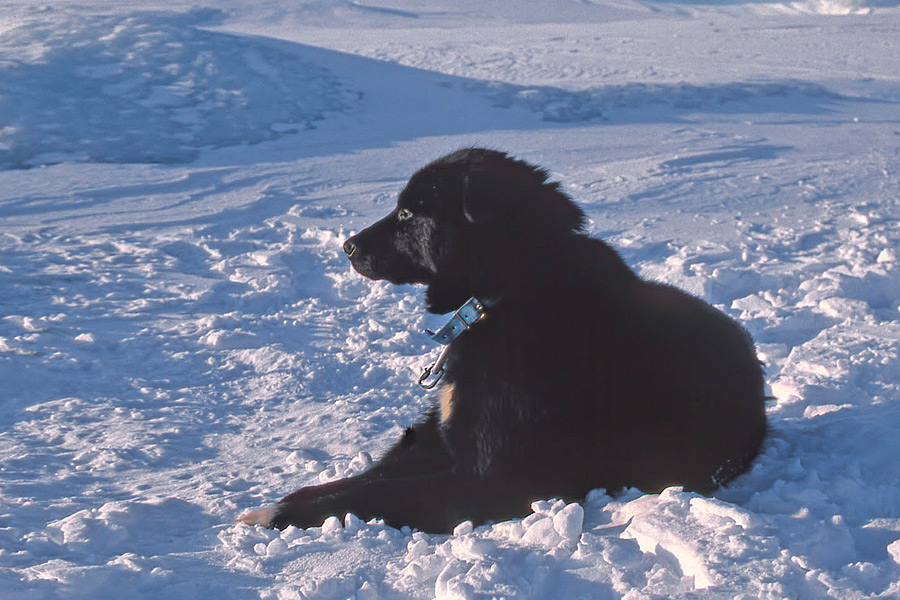 Meeting Charlie "Three or four dogs will be enough I can teach you." Tony was trying to convince me to take a dog team. I told Tony I still didn't want a dog team but I had been wondering about taking just one dog to walk alongside me to warn of approaching bears during the day and be on guard at night. With a look of great relief Tony grinned and said, "I've got a dog you can take. He's trained to warn the village of approaching polar bears and he knows how to take care of himself." When I agreed to at least take a look at the dog, Tony left and returned with a big, black, docile husky. l fell in love with him at first sight. I had no idea what he thought of me. I suppose he didn't care who owned him as long as he was fed and taken care of. He didn't look particularly brave or ferocious and I wondered just what kind of experience he might have had with polar bears. I wondered too how he would hold up to the rigors of my journey. He knew even less than I did about what we might expect along the way. But there was something about him I thought l could trust and I decided to take him with me. I bought him from Tony and when I took his chain he came to me willingly enough. Perhaps he thought he could trust me too. This dog, like most Inuit dogs, had no name. I decided to call him Charlie and the first thing I had to do was find a sheltered place for him to sleep. I couldn't take him inside the inn with me, I knew better than to ask. Inuit dogs are never invited indoors. But now that Charlie was mine, I didn't want him left un cared for out on the ice. After hunting around I found a rather sad looking boat that was used when the ice thawed during the short summer. The boat was stuck fast in the solid ice, leaning at a precarious angle its torn canvas awning frozen in a fly-away position. I tied Charlie to the stern and he lost no time jumping inside. I fed him, then watched as he finished his dinner, curled up inside the boat, and fell fast asleep. The next morning I was up at first light to go back to the boat and greet my new friend. Inuit dogs lead a harsh life. They're not treated as pets, but rather as animals that have to learn how to survive. A piece of frozen seal meat is tossed to them two or three times a week and they chew ice while living tied to a four-foot chain. They're given no shelter, even during bitter midwinter Arctic storms. I had more humane ideas about how to treat Charlie, but the local Inuit weren't used to seeing a dog fussed over and some expressed the opinion that l would ruin him. Nevertheless I continued with my fussing in the hope that Charlie would learn to love and trust me. After all, my life might depend on his loyalty.
. . . . . . . . . . . . . . . . . . . . . . . . . . . . . . . . . . . . . . . . . . . . . .
It was already 9:00 A.M., a cold sunny, clear day, and I wanted to take advantage of the weather to ski as many mites as possible. After last-minute photos and good-byes, I stepped from the ice-covered land onto the glistening white blanket of ice covering the black wakers of Crozier Strait between the east coast of Bathurst Island and the west coast of Little Cornwallis Island. Straining to look into the distance, I could see no sign of the bear and her cubs in that vast white expanse. That I thought ruefully, is why polar bears are white, The first quarter mile of shoreline was a rough mass of icy pinnacles, some jutting upward ten feet high broken and jumbled by the persistent rise and fall of the tides that sigh and groan beneath the great weight they lift. After a few yards I realized it was too rough to ski. I laid my skis on top of the sled and began to pull it by hand through the narrow gaps in the ice. Then I went back to help Charlie pull his sled. I kept pulling and tugging, searching ahead for gaps wide enough to pull my sled through without jamming. Still in sight of the mine I noticed with relief that my well-wishers were beginning to return to their jobs. I had hoped to begin my expedition with a grand dashing start, skiing off into the distance in impressive style. Instead the ice seemed to be doing its best to make my forward progress slow and difficult. A few more yards of pulling and tugging and I could see where the jumbled shoreline ice met the sea ice. Ten more feet and Charlie and I were through. I was rewarded by the glorious sight of smooth white shimmering ice, streaked with ridges up to six inches high called sastrugi and separated by patches of hard-packed snow. Once on the smoother ice I donned my skis and sled harness checked Charlie's harness and skied off.
. . . . . . . . . . . . . . . . . . . . . . . . . . . . . . . . . . . . . . . . . . . . . .
I woke at 5:30 A.M. after a restless night's sleep. My hands were blistered clubs and hurt every time I touched something. Overnight enormous blood blisters had formed to reach all the way down to the second joint of each finger except my left little finger, which had somehow escaped freezing. I knew I had to keep the blisters intact so that my hands wouldn't become raw and bleeding. It would be better to use my heavy mitts as much as possible even though they were clumsy. I thought back to the previous morning, remembering the crazy repacking of my sled with gear ending up in all the wrong places as I just stood there not wanting to offend anyone. I decided what is done is done. One learns one's lessons the hard way sometimes and, besides, if that was to be the only problem of the whole expedition, then I would consider myself lucky. Reaching over I painfully and slowly unzipped the tent door to inspect the new day. Just like yesterday, the wind had dropped. I looked out at cold, clear skies and a light northerly wind. Another beautiful Arctic day. Charlie was up and looking at his empty bowl. I crawled out of my sleeping bag, creating a minor snowstorm as I brushed against the frost-covered tent roof while I pulled on my jacket. I'm normally a morning person but there was something about the intense cold, the tent frost down my neck, and my sore hands that made that morning most unappealing. But it was time to greet Charlie and start the day. Stepping out of the tent, still in my insulated blue camp booties, I looked around for bears or tracks and saw none, but I was surprised to notice that the shore ice with its jagged blocks and pinnacles ended only one hundred feet from my tent. In the settling light of last evening it had looked as if l was at least four hundred yards from the closest rough shore ice. It was my first lesson in the sly nature of the changing Arctic light and the way it affected depth perception. Charlie was bouncing up and down at the end of his chain looking well rested. I hugged him good morning as his soft tongue wiped across my face. I poured what looked like a pound of dog food into his bowl, which he attacked with gusto. It was only six o'clock, so l decided to have a leisurely breakfast of a bowl of granola, milk powder, coconut flakes, raisins, and butter mixed with warm water. I sat on my sled to enjoy the 111 effect of my first breakfast of the expedition only to find that after the third spoonful it was frozen. So much for leisurely breakfasts! I added more warm water and ate the rest as fast as possible. Then I melted enough ice to fill two vacuum bottles with water and a carbohydrate powder. The dry Arctic air holds little moisture, causing quick dehydration of the body, which, in turn, causes early fatigue and reduces the body's ability to keep warm, so fluid would be just as important as food to keep my energy reserves up, I put my day's supply of crackers, cashews, walnuts, and peanut butter cups in my day food bag along with the two vacuum bottles and slipped everything down into the front of the sled bag. Then, remembering Charlie's appetite for crackers, I added a few more. Last to be packed was the tent. I was completely engrossed in finding a way to twist the tent ice screws out of the ice so that my hands wouldn't scream in protest when suddenly I heard a deep, long growl coming from the depths of Charlie's throat. In a flash I looked at him and then in the direction in which he was staring. I knew what I would see even before 1 looked. A polar bear!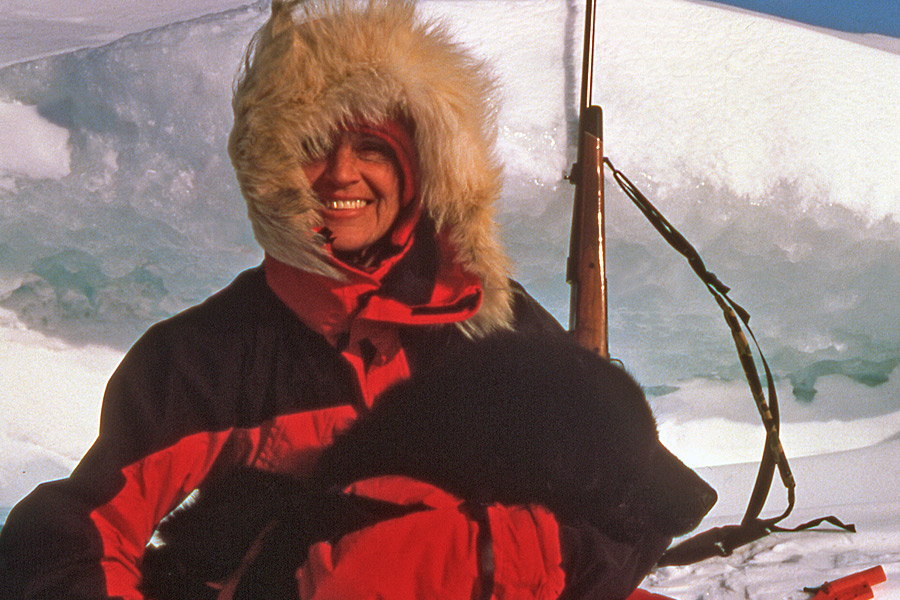 It was a female followed by two cubs coming from Bathurst Island, slowly, purposefully, plodding through the rough shore ice toward me. They were two hundred yards away. With a pounding heart I grabbed my loaded rifle and flare gun and carefully walked sideways a few steps to Charlie, who was snarling with a savagery that caught my breath. Without taking my eyes off the bear, I unclamped Charlie from his ice anchor and, again walking sideways, I led him to the sled where I clipped his chain to a tie-down rope. The bear, now only 150 yards away, wasn't stopping. Her cubs had dropped back but she came on with a steady measured stride while I frantically tried to remember all the Inuit had told me. Keep eye contact, move sideways or slightly forward, never backward, stay calm, don't show fear, stand beside a tent, sled, or other large object to make my five feet three inches appear as large as possible. Don't shoot unless forced to. Don't wound a bear, you'll make it even more dangerous, and never run. Repeating to myself, "Stay calm, stay calm" I fired a warning shot to the bear's left. The loud explosion of the .538 had no effect. On she came. I fired a flare, landing it a little to her right. Her head moved slightly in its direction but she didn't stop. I fired another flare, this time dropping it right in front of her. She stopped, looked at the flare burning a bright red on the white ice, then looked at me. She was only one hundred feet away now, By this time my nerves were as tight as violin strings and my heart could have been heard at base camp. The bear began to step around the flare, and I dropped another flare two feet in front of her. Again she stopped, looked at the flare and at me. Then she fixed her tiny black eyes on Charlie, who was straining at the end of his chain, snapping and snarling trying to reach her. She looked back at her cubs. I could sense her concern about Charlie's snarling, rabid act and her cubs. She waited for her cubs to catch up, then moved to my left in a half circle. In spite of my sore fingers I fired two more flares in quick succession, trying to draw a line between her and me. She stopped, then finally moved away toward my right. The whole episode lasted fifteen minutes but seemed years long. I was a nervous wreck. My hands were shaking as I stood still holding my rifle and flare gun, watching the trio slowly move north. But in spite of the mind-numbing fear that still gripped me, I could feel deep down inside a real satisfaction. I now knew that I could stand up to a bear in the wild stay calm enough to function and still remember the words of wisdom from the Inuit. With Charlie's help I had passed my first test.
. . . . . . . . . . . . . . . . . . . . . . . . . . . . . . . . . . . . . . . . . . . . . .
At 6:00 A.M. I was awake but not rested. It had been a tense night listening for bears. Charlie had made no sound and I hadn't heard the dreaded sound of a bear. As I lay in my sleeping bag trying to persuade my reluctant body to move out of the tent into the cold to begin a new day, I thought about yesterday, But my mind rebelled and I resolved not to dwell on the past. No more thinking of the yesterdays, they were gone, Instead I would save my emotional energy to think and plan ahead. I needed to travel as many males a day as possible to move quickly through this heavily populated polar bear area. Having set a firm course of action in my mind I crawled out of my warm sleeping bag into the bleak cold of the early Arctic morning. Charlie had just got up and was stretching and yawning. I hugged him good morning. "Did you sleep OK, Charlie?" A lick across my face with his big soft tongue told me "yes." The first long golden rays of the new day's sun were already washing over the tent, turning the tiny ice crystals covering the blue nylon into dancing sparkling diamonds. I fumbled around trying to make my hands cooperate so I could light the stove. The pain in the tips of my fingers made that out of the question. I had to devise a method of using the palms of my hands and my wrists to connect the fuel bottle to the stove. With some patience it worked. The stove roared to life as loudly as a blowtorch and I moved to where I could see Charlie in case he warned me of a bear. It was impossible for me to hear anything over the roar of the stove. I quickly put a pan of ice on the stove to melt while I fed Charlie. I was in a hurry to leave this place and find smooth ice again with better visibility. It was spooky in this icy forest. The tracks of a large polar bear and the tiny tracks of an Arctic fox crossed our path. They looked only a few hours old. I couldn't see any sign of the owners so I nervously kept going. Charlie exuberantly pressed his black nose hard down on the ice over the bear paw prints and tried to follow them. I yanked his chain as hard as I could with my right hand to stop him from pulling me off after the bear. It developed into a tug-of-war. I gained ground after shouting, "No, Charlie," and, "Come here Charlie" several times. He conceded victory, but he gave me a long sideways look that told me I hadn't won any points for imagination. My unsportsmanlike conduct in not joining in the bear chase was clearly not appreciated. "Charlie we're supposed to avoid bears" I said "not look for them." Over to the left I spotted a small cave that had been lived in but was now smashed inward. Bear and fox tracks ran everywhere. I saw a large splotch of blood and a mostly devoured seal three feet in front of the cave. Charlie was gleefully trying to pull me over there, so I gave in and joined the investigation. It had been a ringed seal breathing hole which had drifted over with blowing snow to form a cave with the unfortunate occupant having met a violent end. Seals are the polar bear's main food source. The ringed seal, so called because of the pale rings on a dark skin is the most common seal in the area. They live in the sea under the ice and come up for air through breathing holes in the ice pack usually in cracks or in the thinner ice During the winter when the ice becomes hard and thick they have to keep their breathing holes open by constant scratching with the strong curved claws of their fore flippers. Blowing snow drifts over the hole, camouflaging it. The snow becomes deep and hard-packed enough for the female seal to excavate a small snow cave or birth lair in which she has her pup in the spring. The snow cave is supposed to protect the seal and her pup from the prying eyes of a hungry polar bear, But polar bears have a remarkable sense of smell and they can detect ringed seal breathing holes beneath a layer of snow as much as two or three feet deep. When a bear senses a seal breathing hole or birth lair it smashes it with massive front paws and in a flash grabs the unfortunate seal or pup. The thick layer of fat beneath the seal's skin is the polar bear's favorite meal. Arctic foxes commonly follow polar bears to scavenge the leftovers of the hunt. By the looks of this scene a bear and a fox had eaten well. Charlie was having a picnic scratching and chewing the bloodstained ice and eating a few scraps of leftover seal. When he tried to roll in the blood I decided enough was enough. A dog that smells like a seal might become an attraction instead of a deterrent to polar bears. There were probably more seal breathing holes around the pressure ridge, undoubtedly good hunting for polar bears in which case this was definitely a place I wanted to leave as soon as possible.
. . . . . . . . . . . . . . . . . . . . . . . . . . . . . . . . . . . . . . . . . . . . . .
Six A.M. and everything was still. It was cold but clear. I was fortunate to have begun my journey during a period of high pressure. It brought cold temperatures and light head winds but also gave me good visibility. The nearby iceberg looked like a medieval castle in the early morning light, Its sides were smooth while its top was a crest of jagged spires. It had a forlorn, lonely look as if it had wandered away from its neighbors and found itself trapped, unable to return. I was growing accustomed to the changing Arctic light and its various effects on the surrounding ice. The evening shadows were soft at first as they settled silently over the ice then dimmed to a cold harsh gray, to be replaced by the early morning's soft, golden glow, which changed into the harsh glare of midday, I stood there the only human amid the ever-changing beauty of the Arctic. But as beautiful as it was 1 felt very small and alone in a space that seemed endless in all directions. I sat on Charlie's sled my map on my knee, discussing the day's plan with him. He sat on the ice in front of me, loudly crunching his dog food appearing not to really care about my map and plans. An hour later all was packed and we were on our way. Today l hoped to find an easy path through the ice to reach at least as far as Black Point, which was on the edge of Goodsir Inlet. It was eleven mites away and would put me in a good position to cross the fifteen-mile inlet tomorrow in clear weather. Halfway across I would have to pass Polar Bear Pass, an area known for polar bears. "If you're still going when you get to Polar Bear Pass" the Inuit had warned me, "you can expect trouble this time of the year around there and to the north and south of the pass." Considering that I had already had more than enough trouble from bears I couldn't wait to put the area behind me. The very name of the place made me nervous. I resolved not to think of it until tomorrow. Soon I was about half a mile off the eastern shore of Bathurst. I couldn't see any improvement in the ice to the east so I decided to go straight ahead and hope that it would be easier later, We crossed several bear tracks. Some were large but one was gigantic—almost a foot across. I told Charlie "I hope we don't meet the bear that fits into these tracks." Now and then Charlie stopped to dig frantically straight down into the ice. His front paws were like backhoes. Whenever we passed over seal breathing holes concealed by a thick layer of snow Charlie could smell them with his sensitive nose and wanted to investigate. I spoiled his fun by insisting we keep going. The last thing I had time for was excavating seal holes, We passed a few open holes where the ice had broken apart, leaving cracks that froze over with thinner ice making it easier for a seal to maintain a breathing hole. One such hole was surrounded by bear tracks. I wondered if the seal had escaped in time. There were numerous Arctic fox tracks. I saw several foxes, each one alone skittering quickly and nervously in and out of the blocks of ice keeping its head and body low with its fine, white fur coat and long bushy tail held out behind it. Arctic foxes were a beautiful sight, Their little pointed faces seemed too delicate for such a harsh place. Sometimes they stopped briefly to look Charlie and me over then silently disappeared behind the ice. I'm sure we were being watched more often than I realized. Charlie displayed only a mild interest in the foxes. He would much rather find a polar bear. Being more faint of heart I found the foxes to be quite enough.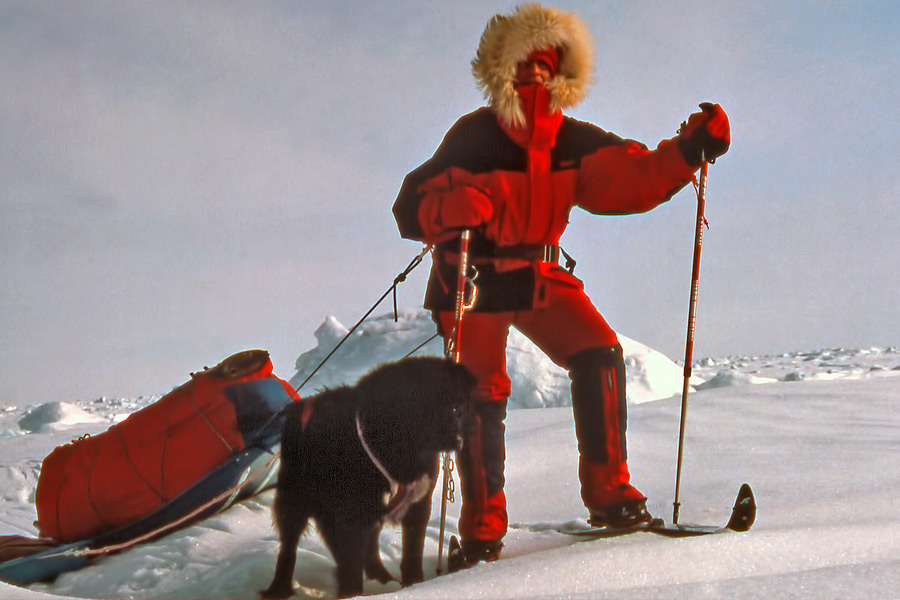 As the morning wore on, the wind increased to fifteen mites per hour coming from the north straight into my face. Dry, fine, sandy snow was blowing toward us sliding over the ice, staying low and not affecting visibility. My eyelashes were covered with the usual icicles and my mask rapidly iced up but I was learning to accept these things as normal.
. . . . . . . . . . . . . . . . . . . . . . . . . . . . . . . . . . . . . . . . . . . . . .
The day started well. I decided to take advantage of the clear visibility and cut straight across the Inlet in- stead of following the coast. 1 found a series of ice pans, some several hundred feet wide, surrounded by rougher ice caused by the pressuring of the pan edges. When one pan ended I crossed over the rough edges to another smooth pan a few feet away. I was making good time, skirting some large mounds of ice over fifteen feet high sprinkled here and there. They were all different shapes, streaked with the now familiar tints of pale blue. We crossed over several cracks in the ice, some only a hair's width and others perhaps six inches across. Charlie didn't like to cross the wider ones. He always hesitated but followed in response to a sharp tug on his leash. He was afraid of falling into the water. I wondered if an Arctic dog instinctively has respect for the cold, chilling wakers, knowing that a dip can be fatal. We were crossing Polar Bear Pass outlet and as I skied I remarked to Charlie, "I wish they had called this place Squirrel Pass. I could handle that." I had seen two sets of bear tracks as we set out at 7:30 in the morning. Now it was close to ten o'clock almost time to eat. There was a larger hummock of ice ahead about twenty feet high. It looked like a small iceberg. I decided to stop to eat on the other side. About twenty feet in front of the iceberg, Charlie stopped and began growling loudly, his back hair standing on end. l had no doubt that it was a bear. I tore my skis off, unshipped the sled ropes from my harness, grabbed the rifle and flare gun, and stood waiting with Charlie at my side still clipped to my harness. He was at the end of his chain, snarling, staring straight at the wall of ice. Every nerve in my body was tense. Suddenly a full grown male bear stepped out from behind the ice paused momentarily, then with unbelievable speed bounded straight as an arrow for my sled. He flipped the offending object to one side with a mighty swipe of a massive front paw as if it were a tiny toothpick. I stood terrified rooted to the spot. Charlie's growls were deafening. Then the bear only twenty feet away, apparently saw me for the first time and partly rose up on its hind legs, dwarfing me as I stood there. The bear began to charge and I was jolted into action. My right thumb on Charlie's collar clip pressed down and instantly released him. I dropped the flare gun and raised the rifle to fire point blank at the bear as Charlie raced to its right rear leg and hung on with all the strength in his powerful black body. As I fired, the bear dropped onto all fours and the bullet zinged harmlessly over its head. Now its mouth open, it desperately tried to reach Charlie but he was hanging on, twisting away from those vicious teeth. Around and around they went until, finally, the more powerful bear tore away from Charlie's grip and raced off into the distant ice with Charlie in hot pursuit. I stood there glad to be alive watching Charlie and the bear disappear into the distance. But my relief was short-lived. Charlie was gone. Would he come back? How could I find him? It was useless to go after him. Would the bear turn and injure him! So many questions but no answers. I was frantic. I had never been so afraid in my life, but now I felt numb. I turned my sled right side up and still holding the rifle sat down, praying that Charlie would come back. I walked around to keep warm, looking into the distance, hoping to see Charlie. I had no idea how long I could wait. I couldn't bring myself to think of what I would do if he didn't return. 1 thought about the bear. It had expressed an anger I had not seen in the previous bear encounters. It had moved swiftly and silently except for a moment before he appeared ready to charge. At that moment I was sure I detected a slight hiss from its partly open mouth. Suddenly I saw a black spot away in the distance. Could that be Charlie? It had to be. The black spot rapidly became larger. It was Charlie. He was flying over the ice with long graceful strides straight toward me. I dropped the rifle and ran to greet him. We met twenty yards away in a flurry of black fur, hugs, and kisses. He was panting hard. I buried my face in his thick neck fur and wanted to cry with joy, but didn't dare. I had learned my lesson on day two when I cried and my eyelids froze shut. Instead, we returned to my sled and had a short celebration party of crackers and peanut butter cups.
. . . . . . . . . . . . . . . . . . . . . . . . . . . . . . . . . . . . . . . . . . . . . .
The ice ahead was a smooth highway covered with a thin layer of snow and a few hard-packed snowdrifts scattered about. The coast, four-hundred yards to my left, was a flat icy plain extending far inland. It was indented with narrow frozen bays but otherwise quite featureless. The sky, almost white from the reflecting ice beneath, stretched endlessly overhead to touch the horizons in all directions. It was like traveling in an enormous white bowl. This part of Bathurst Island is known as Scoresby Hills, named for William Scoresby, a prominent whaling captain in the early nineteenth century who in 1820 wrote Account of the Arctic Regions. But "hills" really stretched the imagination here on the coast, although farther inland, well beyond my sight, there were, according to my map, a few hills of five hundred to seven hundred feet elevation. As I turned into the wind with Charlie at my side, I felt dispirited. My hands were a mess, the wind soon froze my face mask, I still had around three hundred males to go, and I was starting my day at the unheard-of hour of noon. I was grumpy and impatient. A few minutes after we began, Charlie stepped over the right-hand rope leading to the sled, tangling his leash with the rope. It had happened before, but it had been no problem. We had always untangled in a couple of minutes. But this time I lost my temper and shouted at him, "Stupid dog, use your brains and stop getting tangled up." His reaction was immediate. He cringed, lay down on the ice, and dropped his head onto his paws, looking up at me with sad eyes. My angry voice, which sounded louder in the silence, and the sight of a cringing Charlie jerked me to my senses. How could I shout at him like that; I felt ashamed. He had become a loving, faithful friend and had even saved my life yesterday. It was time to make up. "I'm so sorry, Charlie" I said as I bent down to pat him. The effect was electrifying. He jumped up and licked my gloved hand, waving his tail like a flag of victory. I hugged him and told him how much 1 loved him. He didn't have to tell me he loved me. I could see it. I resolved right then and there that no matter what happened, I wouldn't speak to Charlie like that again. I skied off in a much better frame of mind with a happy Charlie at my side. No more grumpiness. Charlie was watching. According to my map, Baring Island to the east was about twenty-five milks away, too far for me to see from sea level across the carpet of ice that stretched to touch its shores. My constant companion, the Bathurst Island coastline, still beckoned to tile west. My map showed the next fifteen mikes ahead to be an extension of the same wide coastal plain I could see to my left, with little to distinguish the land ice from the floating sea ice. A desolate expanse. The smooth ice provided the fastest skiing of the trip so far. Perhaps I could make up for my late start. The wind stopped gusting and settled down to a steady fifteen males per hour. At 44 below zero, the wind chill was about 90 degrees below zero. Because I was heading into the wind a crust of ice soon covered my mask and crept down my jacket front. After an hour Charlie's face was also covered with a thin coating of ice. It would have been a relief to have the wind behind us, but I didn't dare think such thoughts. A south wind would only bring stormy weather. As I skied on I still kept up my routine of stopping every ten minutes or so to check behind us for bears. I still had a horror of a bear sneaking up behind. But I saw no bears. In fact, I hadn't seen a track since just south of Rapid Point.
. . . . . . . . . . . . . . . . . . . . . . . . . . . . . . . . . . . . . . . . . . . . . .
Starting out the day, I saw that the coastline was still flat, with few distinguishing features. My map showed the Moses Robinson River mouth to be about six mites ahead. At least that was something to aim for. I found that if I divided my journey into segments, each day's travel went faster. The ice crystal fog was increasing in density. I had to squint as I strained to see the coastline only a half mile away. But at least I didn't have to deal with the wind. As the ice fog grew even denser, reflected sunlight created a pale golden curtain around us that seemed to be made of the finest, softest chiffon. Without dhinking, I put my hand out to touch it but met only empty space. I was standing in a golden world alone with Charlie, a soft, gentle world, and I wished everyone could see it and know the feeling of tranquility that went with it. The phenomenon of sunlight and ice crystals had turned this harsh, unforgiving polar desert into an oasis of quiet, golden beauty. Skiing slowly, l wished I could make the scene last forever. The terrain ahead of me was covered with large patches of hard-packed snow, some fifty yards across, interrupted with ridges of driven snow as high as two feet. The hard-packed snow between the ridges gave plenty of grip to my skis. In the Arctic, the wind packs the fine, white grains of the sparse snowfall into a thick, solid crust, and Charlie and I pulled our sleds with ease. The coastline had almost disappeared in the thick fog. So instead of using that for a direction guide, I made a mental note of where my shadow was pointing. My watch read 8:30 A.M. and I was traveling due north. The sun was now in the east and swinging south. My shadow was pointing northwest and would change its angle fifteen degrees every hour. As long as the sun could penetrate the thick fog, I would follow the direction of my shadow. The temperature seemed to be rising. This, coupled with the fog curtain and the halo around the sun, convinced me that there soon would be weather changes for the worse. I increased my speed so that if a storm was approaching I would travel at least a reasonable number of miles that day. A one-hundred-foot cliff ran along the edge of the icy beach for a mile and a half, a contrast to the flat land I had passed for the last several mites. Then it flattened again to a coastal plain that extended to a place called Airstrip Point. I could only imagine how this place got its name. Perhaps some thankful pilot found a flat landing spot when he needed it most. It was 6:00 pm, so I decided to camp about half a mile before the point. Charlie and I had traveled eleven mites in spite of the fog and the stretch of rough ice. But as I made camp I became increasingly concerned about the weather. It had warmed to 31 degrees below zero, a ten-degree increase since seven that morning, and it showed no signs of cooling off as it normally did in the evening. A light north wind whispered by the tent, barely moving the fabric. The fog was gone and I could see clearly in all directions. Were these harbingers of a storm from the south Because I felt so uneasy about the weather, I tied the tent down with two extra ice screws just in case the wind picked up.
. . . . . . . . . . . . . . . . . . . . . . . . . . . . . . . . . . . . . . . . . . . . . .
The south wind I dreaded had arrived. Sometime during the night while I slept the wind had changed direction and I stood outside the tent looking for signs of the storm I knew a south wind could bring. The weather looked good, but I decided on an early start just in case. I fed Charlie, broke camp, and loaded my sled as fast as I could. Noting that the ropes around the dog food bags on Charlie's sled had worked loose during yesterday's travel, I retied them carefully. Putting my boots back on was my last job. Again it was a painful struggle as I tried not to use my fingers. My only consolation was that the job would become easier as my hands improved. We left at 7:00 A.M., and even though a south wind could bring a storm, the wind at my back felt good. Up to now it had blown straight into our faces. Charlie didn't complain when we traveled into the wind, but I did. My mask always turned into a frozen lump, my eyelashes froze, and worse still, I had to be careful that my eyes didn't freeze when I couldn't wear my goggles because of fogging. I tried to wear goggles as often as possible, but when fog froze on the lenses, I had to take them off to watch for bears, which left my eyes unprotected from the wind. By the time I had taken off the tie-down ropes and repacked the entire load, the wind had increased enough to pick the snow off the surface of the ice and swirl it around the sled. The fine snow blew high into the air, cutting visibility in half. Earlier that morning as we rounded Airstrip Point, I had seen the faint outline of Des Voeux Island eight mites to the east. Now the island had disappeared behind a wall of blowing snow. I anxiously looked back at the approaching storm. A dark gray bank of clouds and blowing snow stretched as far to the east as I could see and engulfed Bathurst to the west. It was still several mites to the south, but it would soon catch up with us.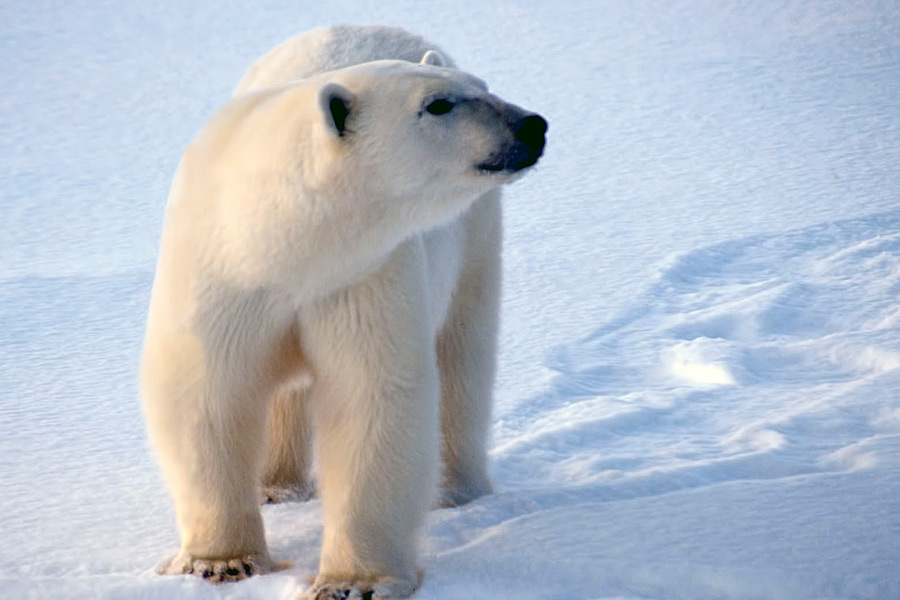 The wind speed gradually picked up. Although the temperature was higher than yesterday, the cold wind was penetrating. I wore a Sherpa type hat with ear flaps and a strap that tied under my chin. Every day of my journey the strap had frozen, turning it into a sharp cord across my throat. Today was too much. It had become so thickly encrusted with ice that it was actually beginning to cut my skin when I turned my head. I stopped and severed the frozen straps with my pocket knife. That fixed the problem in an instant. trying to adjust to the new conditions and regain a sense of reality. I touched Charlie on his broad back. At least he was real, and gradually I regained my own sense of reality and pushed the fear away. I tried to control the fear by keeping a tight grasp on reality, concentrating on things such as ski technique and navigation, constantly working to travel faster. There is really no way to prepare yourself for the emotions of being alone in the great polar desert. There is nothing familiar to pin emotions on. It is a white world devoid of the wide spectrum of colors, noises, and familiar objects of civilization. When this unfamiliar, lonely world is reduced to a small gray patch by a storm in which distance sometimes has no meaning and familiar objects do not exist, it can be traumatic. Alone in an enormous expanse where humans are not meant to live, in constant fear of attack by polar bears, I could never really relax. I always had to maintain strict control over my thoughts and emotions. My survival depended on it.
. . . . . . . . . . . . . . . . . . . . . . . . . . . . . . . . . . . . . . . . . . . . . .
I didn't need to look out to know the storm was still with us. I reached past a sleeping Charlie to where the thermometer was hanging from a tent tie-down rope outside the door. It was minus 20 degrees and I was surprised at how much the temperature had risen since yesterday morning. The wind sounded very uninviting but I needed to know if there was any chance at all of traveling today. I climbed out of my warm sleeping bag and struggled into my outer jacket. It was cold and stiff with ice. I hadn't deiced it last night over my stove. I had only wanted to crawl into my warm sleeping bag to escape the numbing cold. Deicing had become a nightly job. After several hours of skiing during the day, a thick layer of ice formed on my mask, down the front of my jacket, and yesterday even around the collar, making it difficult to turn my head and almost impossible to unzip my jacket. I used my mountain-climbing ice axe to scrape the ice off the zipper when I took off my jacket. By the third day out I set aside time each night to melt the ice off my mask and jacket after I had eaten dinner and called base camp. Charlie had the right idea. He hadn't stirred all morning. He was sleeping the storm away. I snuggled down deep inside my sleeping bag, retreating into my own world of warmth, and I too fell asleep. When I woke again at 5:00 p.M., the wind was still raging. The back of the tent was facing into the wind and was pushing inward from the weight of snow building up on the outside. I put my feet against the inside wall and tried to push the snow load off the outside. Most of it fell away. Then I noticed the wind was forcing snow up under the tent fly and pressure was building up against the main tent wall. I was worried that the extra weight might tear the seams out and the tent would blow apart. If that happened, I would have to use my sled as shelter. It would be difficult and marginal because of the lack of space, but 1 would have no alternative in an emergency. I knew 1 would have to go outside to check the radio antenna and the tent. I tried to put it off by thinking of a reason why I shouldn't do it, but there wasn't one. So with great reluctance I crawled out of my warm cocoon and reached for my jacket. At least I could zip it up now. I pulled my hat down low and put on goggles. Then I reached a gloved hand out with the anemometer to measure the wind speed. A steady forty mites per hour with gusts to forty-six. The temperature was minus 19 degrees. I felt discouraged. How long would this go on? Springtime storms from the south can be long and fierce. I eased myself outside, trying not to let snow into the tent. It blew in anyway. When I turned into the wind to look for the antenna at the back of the tent, I was almost thrown off my feet.
. . . . . . . . . . . . . . . . . . . . . . . . . . . . . . . . . . . . . . . . . . . . . .
Each time I woke during the night the wind was still tearing at the tent wails. When I woke again at about 8:00 A.M., I just lay there thinking of the mites I could have traveled by now. There was nothing to do but ponder my predicament. I know that springtime storms in the Arctic can be severe. During the winter a high-pressure system sits over the geographic North Pole and spreads throughout the polar region. Springtime brings south winds and warmer temperatures. The resulting storms with high winds can be extreme and long lasting, Unlike the mountains there is nowhere on the ice pack to hide. The snow isn't deep enough to dig a snow cave and the only shelter is behind a pressure ridge, which is definitely not a safe place to be if the floating ice pack decides to move. Pressure ridges are created when the leading edges of ice floes crash together in high winds, with the edges pushed upward by the colossal grinding power of the moving ice. But the ridge can also pull apart at any time, leaving a long, wide strip of open water. In a storm the best camping place is in the middle of a flat area of older, thick ice, with no apparent cracking or ridging. Even there, the ice can unexpectedly crack apart or, under extreme pressure, heave and move to create a new ridge. Survival in an Arctic storm depends on finding shelter. Large squares or oblong blocks cut from wind-packed snow make good windbreaks. This form of shelter is commonly used in the mountains. However, the light snowfall of the Arctic along the route to the magnetic North Pole causes a scarcity of packed snow deep enough to cut blocks from. Sea ice is sometimes used as an alternative. But compacted, rock-hard sea ice is difficult to saw through and doing so consumes vast amounts of energy, especially if it is multi-layer ice, the form of ice that has remained unmelted for more than two years. The Eskimo igloo made of snow blocks was the classic Arctic shelter until it became obsolete after the arrival of the snowmobile. The Inuit and others who inhabit the polar regions hunt mostly by snowmobile these days. They can leave a settlement by snowmobile for a day's hunting in a favorite area and return within twenty-four hours. For longer hunts, pitching tents has become common. A sturdy, low-profile tent, built to shed the wind and anchored all around to the ice with metal ice screws, is a dependable shelter on the Arctic sea ice. I was sitting in my sleeping bag with my map spread across my knees, wondering how I could make up for lost time once we resumed our journey, when I was suddenly jolted by the sound of a loud crack outside the tent. The map flew in one direction and the sleeping bag in another as I jumped up, grabbed the rifle, and un- zipped the door. I could see nothing through the blowing snow. I waited tensely, crouched in the doorway trying to keep out of the wind. Surely a bear couldn't make a sound that loud, I thought. Charlie had jumped up as fast as I had, moving from the porch into the tent area. He, too, was alert and tense, but not as if there was a bear close by. What was going on? In another moment I had my answer, My whole body jumped in fright when once more an ear-splitting crack rent the air. For an instant, just as I heard the sound, I saw a crack slice through the ice five feet in front of the tent. Now it dawned on me what was happening. Just as I knew it could, the storm was causing the ice pack to move, and subjected to great tension, it was splitting open.
. . . . . . . . . . . . . . . . . . . . . . . . . . . . . . . . . . . . . . . . . . . . . .
The wind continued to slacken, but it wasn't until six that I could see far enough ahead to travel safely. A heavy ice fog had developed in the early hours of the morning, but by six had thinned so that visibility was about a quarter of a mile. I had been afraid to leave any sooner. The ice pack was too broken up to risk traveling. But now the wind, our captor, was gone, the doors of our prison had been flung open, and we were free to go. I was already packed, so after a handful of crackers and walnuts for me and dog food for Charlie we left. The minus 15 degrees was more comfortable than the lower temperatures of the first few days, but I felt uneasy about it, Did it mean another storm was on the ways And the wind, although now slight, was still from the south, which meant the weather was unsettled enough to bring another storm. The sun shone thinly through the light ice fog. The blowing snow had drifted and was packed tightly into low ridges from a few inches to two feet high. Looking anxiously around for signs of cracks, I saw numerous pencil-thin lines across the ice and several gaps up to three inches across. We arrived at the first of these gaps and Charlie stepped carefully to the edge, looked down at the cold, black water, paused a moment, then stepped nervously across, watching the water beneath him. "It's all right, Charlie," 1 said, using my most encouraging tone of voice. He obviously didn't like to step across water, but by now he had gained confidence in me and was willing to trust my judgment. After twenty minutes of careful travel, we came to a particularly fractured area with wide gaps almost three feet across, stretching east to west across our path. I looked down into the inky blackness of the water and shuddered, thinking of what it would be like to fall in. The sudden cold shock would be paralyzing, perhaps fatal. I had visions of the horrible stories I had been told of sled dogs that fell in the water and were cut loose to prevent them from pulling the rest of the team in with them. Sometimes they scrambled out, but if the currents were strong they disappeared under the ice. No wonder Charlie was so cautious around open water. He knew the consequences of falling in. All at once the ice began to move again, cracking and grinding in all directions. I stood terrified as the gap in front of me slowly closed to only inches. The winds of the past two days combined with the tides were still moving the ice pack. Quickly taking advantage of the now-narrow split, we stepped over. The next gap, a few yards away, was wider and slowly opening. l grabbed Charlie, urging him to hurry, and we scrambled over that one too. But then there was a sharp bang and a crack raced through the ice just inches in front of my ski tips. My mouth was dry with fear. I wanted out of here and fast. We crossed the new split only to reach the edge of a gap three feet across. I was afraid it would suddenly widen. To allow Charlie to jump without the traces of his sled pulling him backward, I quickly attached his sled to a long rope. His head cocked with uncertainty, he watched me approach the crack. My skis, although bending alarmingly in the middle, reached across the gap and I stepped across, pulling my sled over after me.
. . . . . . . . . . . . . . . . . . . . . . . . . . . . . . . . . . . . . . . . . . . . . .
I awoke at 1200 A.M. to a howling windstorm that shook the tent. Charlie was curled up, presumably still asleep, undisturbed by the fury unleashed on our tiny home. The end of the tent that pointed into the wind bulged inward under the pressure of wind and snow. Kicking the wails from the inside was no help. I would have to go outside to shovel away the snow that was piling up against the back wall, threatening to collapse the tent. At noon I heated water for another gourmet delight, followed by hot chocolate. As I filled my vacuum bottles again, I noticed lengthening gaps of silence between the gusts of wind that howled around the tent. The storm was passing, and I packed up just in case it quieted down and I could leave. When I looked out, all I could see was snow being picked up off the ice by the wind and rearranged in ridges around the tent.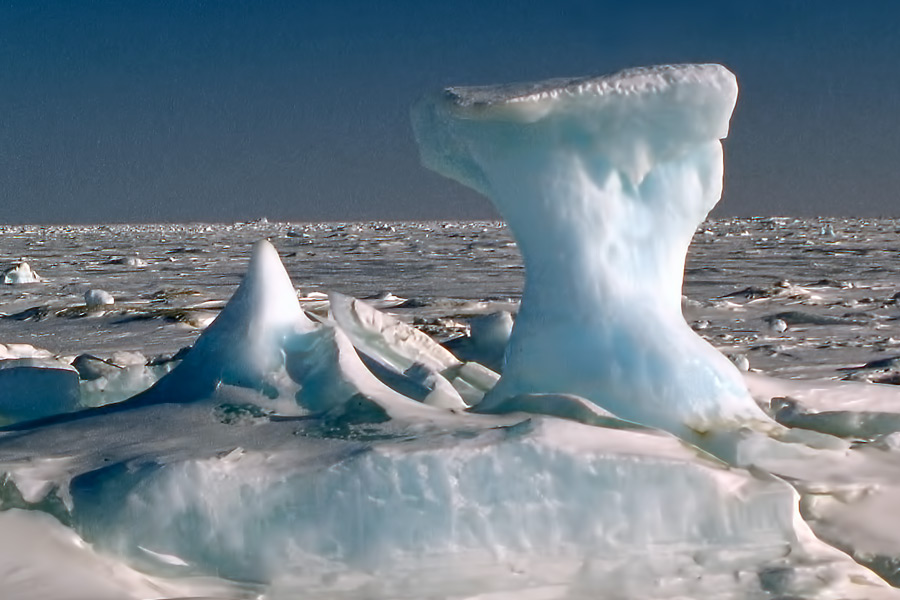 At three the wind had gone its way and Charlie and I were bathed in a welcome silence, broken only by the occasional low groan or high-pitched whine from deep within the ice pack beneath my tent. Visibility was no more than a few feet. The air was still but filled with tiny snowflakes floating lazily down to lie quietly on the ice. Frustration began to set in, even anger at the storm for daring to last this long. How in the world was 1 ever going to get to the poler At least during the last storm, I had breaking ice around my tent to keep boredom at bay. I quickly tossed that thought away. I would happily stay bored rather than ever go through that again. By seven at night the snow had stopped and the air was thick with fog and rising temperatures that now reached plus 9 degrees. I walked away from the tent, trying to decide if I should begin skiing again. I was no more than fifteen feet away when I looked back and I could barely see the tent through the blanket of white that hung like a curtain all around me. I decided to wait until the visibility was a little better.
. . . . . . . . . . . . . . . . . . . . . . . . . . . . . . . . . . . . . . . . . . . . . .
I slept little after 2:00 A.M. The sound of the wind crept into my sleep as it grew into another howling gale. By four o'clock the tent was shaking in all directions at once. Terry was right, the storm wasn't over yet. I cursed the wind. How dare it come back? Alone in my little world I looked upon the wind and the storm as enemies with no right to intrude into my plans. The worst part was the helplessness, my inability to change things and take control. I had learned to control my emotions when faced with a polar bear, when the ice was breaking all around me, when my hands screamed for relief, and when the loneliness pressed inward. But now Mother Nature was in control and I didn't like it. Then in the midst of my anger and frustration, a glimmer of reason took hold and grew. A new lesson was unfolding. l could take control by staying calm and waiting quietly for the storm to run its course. I would conserve energy, study my maps and navigation for the journey ahead, then leave when Mother Nature gave up. I watched Charlie just sleeping the storm away. He would be rested and ready to go when the time came. He was in control. The Arctic classroom and Charlie were teaching me yet another lesson. Breakfast was an uninteresting event. Now that I had time on my hands, my food and its shortcomings were more noticeable. When hurrying to leave in the mornings and then at night hurrying to eat and go to sleep, I ate my food without mental comment. Now I decided that I would be selective about what went into the bowl and what I mixed with it. That morning's mix of granola, milk powder, a chunk of butter, peanut butter cups, coconut, and crackers was not the way to start a day of patient waiting. I leaned over and tapped Charlie on the shoulder. "Would you like this, Charlie?" It was a moment before he comprehended that this bowl of food could be all his. I poured it all into his pan. After a few wolfing gulps it was gone.
. . . . . . . . . . . . . . . . . . . . . . . . . . . . . . . . . . . . . . . . . . . . . .
I was packing the stove, talking to Charlie about the day's plan, when suddenly there was the sound of a single loud crunch at the doorway. We both immediately knew what it was. Charlie's head went up. He leaped to his feet and raced out the door to the end of his chain with a lionlike roaring snarl. Instantly I dropped the stove, grabbed the rifle, and scrambled out the door. A polar bear was twenty feet away staring at us. It had jumped back when confronted by a snarling Charlie. He was leaping at the end of his chain while I frantically fumbled for my flare gun. I finally jerked it out of my pocket and fired a row of flares at the bear's feet. It stepped hurriedly backward, then moved to my left, warily watching us. I kept firing flares with one hand and holding the rifle with the other. I sensed something different about this bear. It would take a step forward and retreat only in the face of Char- Iie's vicious snarls and my flares. It looked thin and a thin bear could mean a hungry bear. My mouth was dry, I could hear my heart pounding in my ears, and my hands were shaking. My world, which had been so tranquil while I packed, was now shattered with fear. The sudden change was mind-wrenching. The bear changed direction and walked back to the right, still twenty feet away. Although obviously impressed by our line of defense, this bear wasn't leaving. It was a standoff. I quickly checked my ammunition. I always kept two jacket pockets full of flare shells, the rifle was loaded, and I had more rifle shells at the ready in a row of loops especially sewn across the front of my jacket. The bear swept to the left again, then surprised me by turning and without changing stride walked two hundred feet farther to the left to some scattered low chunks of ice. As I looked on in amazement two perfectly white cubs trotted side by side toward their mother. She led them to a wide slab of ice a few feet farther away, backed by a sheen-foot-high jagged mound. Then she lay down with her belly to the sun and allowed the cubs to feed. For a moment I wondered if I was seeing things and even forgot my shaking hands and pounding heart. It was a beautiful sight. The cubs were nestled close to their mother, feeding. Just a moment ago the bear had confronted Charlie and me, but now motherly duties had taken over. It was obvious that to her mind we were not especially important or dangerous. I was confused. I looked down and saw her footprint only six feet directly in front of the tent doorway. She had been that close and now, not two hundred feet away, she simply ignored us. Nevertheless, I decided to strengthen my defenses. I zipped my jacket and put my hat and liner gloves on. My large mitts were too clumsy to use effectively with the flare gun and rifle. My boots were already on. l grabbed another three boxes of flares and laid them with a new box of rifle ammunition on top of my sled. l checked Charlie's collar and quick release. Everything was ready, but I was halfway convinced that the bear would feed her cubs and leave. I very much hoped so. I stood alongside Charlie, waiting. My heart pounded less and my hands stopped shaking. I had control of my fear. The next move was up to the bear.
. . . . . . . . . . . . . . . . . . . . . . . . . . . . . . . . . . . . . . . . . . . . . .
I awoke before midnight, looked out, and could see the low mound of Hyde Parker Island eight mites to the east. At last the wind had turned to the north. It was a beautiful clear morning and I decided to break camp even though it was midnight. I had had enough of stormy Arctic weather and didn't want to chance another delay. I was still mostly packed from my efforts before the visit from the bear and her cubs. Taking the tent down, I stuffed it in the back end of my sled and laid the radio on top. My sleeping bag lay along the 911 length of the sled with my batteries and cameras tucked inside. I never stuffed it into a sack. I saved a lot of time and energy by carrying it loose on top. I zipped the sled bag closed. Charlie was already attached to his sled. We were ready for an early start. All around my campsite and ahead for a quarter mile there were low mounds of scattered ice, but l could see smooth ice ahead. I had put the skins back on my skis last night. I didn't really need them, but I couldn't afford to make the same mistake twice. Besides, I couldn't be sure what the ice would be like around the corner. I was only a mile from the top of Bathurst Island, where I would turn northwest. As I set out I looked at the view I hadn't seen in the storm. The one-hundred-foot-high cliffs to my left on Bathurst were ice-covered, with patches of brown rock showing through. Looking north between Bathurst on the left and Hyde Parker eight milks out to the right, I saw a wide blank area of ice, a dull, shadowless white in the midnight light. I hoped I wouldn't have to cross the gray patches of thin ice I had seen to the north as I stood high on the cliffs before the storm. At first the ice looked white and thick. So far no problems. But as I followed the coast one mile to Cape Kitson, I noticed that the ice was becoming thin and slightly mushy, with gray patches where it was new. I stayed close to the coast as I rounded the cape, looking for an escape to the safety of the land. I found a wide gully that led to the top of a three-hundred-foot plateau. From there I could cut across the corner of the island and find safer ice on the northern coast. Once on top of the plateau I looked across a breath- taking view. Long, rambling Loney Island was three mikes north of me, separated from Bathurst by a body of ice-covered water called Water Sound, obviously in reference to the uncertain ice conditions. It was almost 3:00 A.M. and the sun was rising from its hiding place just below the horizon, pushing a wave of golden light across ice and land that was empty of anything human. There was total silence. The wind had left and nothing moved. It was an impersonal place, indifferent to whether I was there or not. It had existed for centuries and would continue to exist, while I, a mere human, would soon be gone.
. . . . . . . . . . . . . . . . . . . . . . . . . . . . . . . . . . . . . . . . . . . . . .
The sun was up and the sky was a clear, pale blue with just a whisper of a breeze. I pulled my down parka on and took my map out to study the route from where I stood on Allard Island. When making my final plans at base camp to travel northwest from Mlard to Sherard Osborn Island, then continuing northwest to King Christian Island, I knew the stretch from Osborn to King Christian would present the most challenging navigation of the whole journey. But this route would give me the advantage of traveling extensively within the magnetic pole area where I could record in detail everything I saw as part of the educational project that would go into classrooms in the United States and Canada. It would also satisfy my own curiosity and need to see and touch the islands surrounding the estimated position of the magnetic pole. The challenge to my navigational skill would be two-fold. First, because the route would take me through a vast area of sea ice, I would have to navigate out of sight of land. And second, I could not use the most basic of navigational tools, the magnetic compass, which is rendered useless so close to the magnetic pole. I took out the map to begin plotting my course, I wore two watches, both set on Resolute time. I carried a twenty-four-hour sun-shadow dial, which I used in conjunction with my Local Apparent Noon chart. The LAN chart gave me the precise time the sun would be due south according to local time. A sun-shadow dial, while not considered reliable at lower latitudes, is an accurate tool in the area of the pole. Once having established north and south with my sun-shadow dial, I laid my map flat and with my protractor I measured the exact angle west of north I would have to travel to reach western King Christian Island. My present position was 76 degrees 45 minutes north latitude and 99 degrees 35 minutes west longitude. From this position I had to travel at a thirty-degree angle west of north to reach my destination. Therefore, I would have to measure distance carefully to keep track of my latitude and longitude on the map. The measuring wheel attached to my sled would give me distance traveled, but as I skied up the coast of Bathurst Island, I had practiced a skiing speed of two miles per hour over smooth ice, which I had perfected at home so that I could determine distance, independent of a mechanical device that might break down. Allowing for movement of fifteen degrees each hour, the sun would be an excellent direction finder, The wind, which was by now a stiff breeze, was due north and would also help as a general guide, especially if it remained steady. I also carried an experimental Global Positioning System unit, which was capable of giving me a satellite reading of my location.
. . . . . . . . . . . . . . . . . . . . . . . . . . . . . . . . . . . . . . . . . . . . . .
Four A.M. Charlie wasn't at all happy at being awakened, so ignoring me he went back to sleep. I wished I could do the same, but I hoped one more hard day would take me within striking distance of King Christian Island and this was the weather I needed to do it. We were away again by five, facing the seemingly endless sheet of ice that stretched to an unbroken horizon. There was nothing to focus on even in the clear early morning light. Yesterday the land had fallen behind, taking with it the landmarks that had helped navigation. By midmorning we were in a wide area of low, jagged ice mounds scattered about in random fashion. The way through was easily defined and they didn't hinder us. We crossed a set of polar bear tracks many days old that meandered off to the east. The wind strengthened to fifteen mites per hour, streaming low across the ice and hiding my skis and boots in a shallow sea of blowing snow that swept across from right to left. Charlie appeared as if he were walking with no feet. Although reluctant to set out that morning, he was moving easily now, frequently holding his nose high to catch the smorgasbord of polar bear and seal scents that came with the wind. It remained a sunny cloudless day. The wind although cold held to due north, helping navigation. I stopped each hour to sight the sun with my sun-shadow dial and, carefully aligning myself at a thirty-degree angle west of due north, I plotted my position on the map. To further establish my alignment with north, I stopped at the time close to noon when, according to my LAN chart, the sun would be due south.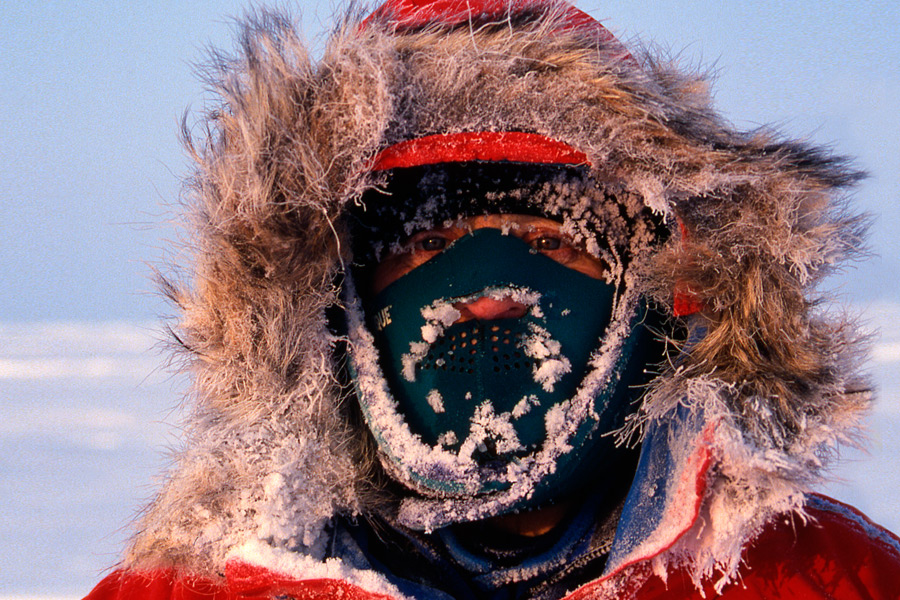 Navigation made the day a busy one as I frequently checked my course while trying to cover as many miles as possible. As the hours wore on the miles shipped behind us. Morning became afternoon, which had turned into early evening when we reached 101 degrees west longitude. Traveling hour after hour through the wind, which by six that night had increased to close to twenty mites per hour, was energy sapping. Its continual low moan, its buffeting, and the sound of my skis moving steadily north produced a sameness that numbed my mind. I forced myself to keep a brisk pace, knowing that was the only way I would reach land again. In case the increasing wind meant an incoming storm, I decided to continue until midnight as I had done the day before. Charlie was keeping up with the steady pace and hadn't protested yet. Once again the sun began to set. That day it wasn't just a fiery ball, it was something friendly and alive that moved through the sky, helping me find my way across this blank, empty space.
. . . . . . . . . . . . . . . . . . . . . . . . . . . . . . . . . . . . . . . . . . . . . .
By midmorning the hazy glare was in fu11 force. I had grown tired of straining to see beyond the white wall that reflected off everything, but I kept watching the northern horizon, searching for the land I knew had to be there. I had covered thirteen miles when, at noon, I thought I could see the faint outline of a low, spreading island to the north. I rubbed the ice crystals off my eyelashes, trying to see. It had to be King Christian. I skied on with a new energy born of the need to know if I was on course, if my careful navigation had paid off. Without stopping to eat or drink I skied faster, closing the gap beyond which I hoped to find the island I sought. After another mile I knew it was King Christian. I had intended my navigation to take me to the south-west corner of the island, but I saw that I was headed a little far to the west, perhaps a mile. After plotting the correction on the map I turned slightly north. As the island grew larger I reached 102 degrees west longitude. Taking time only to make a noon sun directional check, I headed with growing excitement to the island, now less than three mites away. It appeared in the distance as gently rising to a low center well inland. There were no cliffs or anything steep. I was elated to find not only land, but the land I had been aiming for. I arrived at the western tip of what appeared on the map as a horseshoe-shaped bay at the southwest corner of the island. But it was impossible to determine its exact shape because the shoreline was so flat I could only guess if I was on land or sea ice. Looking around, I saw a desolate, flat, barren place where the land and sea ice met in a barely discernible line. Flat plates of two-foot-thick ice had ridden up in places over the land edge, pointing skyward at odd anglos. The land was so low that it had been unable to stop the sea ice from invading its space. Rising only a few feet over a long distance inland, it had the appearance of a crumpled white blanket. I had to judge the shore edge by the difference in the ice. The sea ice was cracked and buckled. In contrast, the land ice was more stable, giving less under my weight and without the hollow sound of the sea ice. The coast had no real distinguishing features other than its own empty flatness, But I had passed no other island like it, which made it distinctive in its own right. Now my job was to prove to myself that 1 had indeed arrived on King Christian Island or, heaven forbid, some other island. The sun was 23 degrees southwest, and as I faced west across the sea ice the land lay at my back, telling me I stood on the west coast of the island. I could see a long, flat coastline stretching to the northwest. With my ski pole and protractor I sketched out angles in the snow and found the coast to be at an angle of 50 degrees from due north, agreeing with the coastline angle shown on the map. The map also showed the coastline at the southwestern tip of the island to be flat, with the land rising to one hundred feet more than a mile inland. As a last check before I moved on, I turned on the GPS unit, which gave me a reading that agreed with the one I had plotted on my map. Everything added up to King Christian Island. My navigation had been a complete success.
. . . . . . . . . . . . . . . . . . . . . . . . . . . . . . . . . . . . . . . . . . . . . .
The ice creaked like an old ship, even moving and buckling in front of us, and the noise made Charlie jump backward. I didn't like it either. Any sound in the silence was magnified, causing my nerves to react to the slightest noise. It was not only unnerving but downright spooky. I wondered if the tide was cresting as we passed by, which would account for all the noise and movement. I stopped to reassure Charlie, but he kept walking, sending me the message that his reassurance would come when we left this coast behind. The bay was over two miles wide and swept west to a projection of land leading to the final stretch of western coastline. At the northern edge of the bay, I decided to explore the Wallis River, which appeared to be the largest river on the coast. In order to identify the river properly, I would have to travel inland about three miles. At first the river meandered its way through a plain that rose and fell only slightly until I crossed the shallow bands of a minor river coming from the south. Later the main channel snaked its way through a scooped-out canyon quite wide in places, and farther on it occasionally brushed the sides of steeper slopes. Here and there patches of gray-brown, sharp-edged gravel showed through the wind-packed snow on the river banks. Patches of orange lichen grew on the sides of occasional scattered rocks. A few dried stalks of last summer's grass remained. A 370-foot peak showed to the north, although rather than a peak, it appeared from where I stood as a high point on a plateau. The landscape, although mostly hidden under a layer of snow and ice, had a sterile, wind-blasted look. I had traveled up Wallis River far enough to positively identify it, and it was now time to return to the coast. But before leaving the inland spot, I went to my sled and from a small waterproof nylon sack I took four tiny mementos, one each for Bill, my parents, and myself, to bury inside a cairn. The gravel was sharp and frozen. A few blows from my ice axe loosened the top layer and with my shovel I piled gravel and small rocks into a two-foot-high mound far enough above the river bank to escape the summer thaw. I placed the mementos in a hollow I scooped out on top. There was a note from Bill that he had instructed me not to open until now. In his scrawling handwriting it read, "When you read this you'll have arrived at King Christian. Congratulations on becoming the first woman to solo the magnetic North Pole. We're proud of you. Come home safe. We all love you." I could barely see through my tears as memories of home rushed in. I placed the note alongside the other mementos in the hollow, then sealed the top with more gravel. As King Christian was to be the most northerly island I would visit, I wanted to leave something from all of us there, almost as if to claim a part of this tranquil place for ourselves. I had dreamed of seeing and walking on this island for a long time. Now After reaching the coast I once more headed north and in a few miles I reached the north coast of King Christian Island the most northerly point of my journey. Tomorrow I would navigate south to the coordinates of the center of the magnetic North Pole region.
. . . . . . . . . . . . . . . . . . . . . . . . . . . . . . . . . . . . . . . . . . . . . .
I reached the southern tip of King Christian and turned back for one last long look at the strangest, loneliest island I had ever seen. As a land mass it was an understatement, but I would always remember it. When I was planning for the journey, the island had taken on a romantic aura because it would be my northernmost point and important to my navigation. Now as I was about to leave it, it still was a romantic place, splendidly alone, silent, with no sign of life anywhere. I finally turned away to concentrate on the task of navi- gating across the same blank landless space I had trav- eled through on the way north. After taking careful directional checks of the sun and wind, I left King Christian Island behind and headed south. The pole was only nineteen miles away. By four o'clock an enormous wall of blue-black clouds stretching miles across was building up and moving in from the south. The uninterrupted horizon allowed me to see an entire storm front in one overwhelming view. The wind gusted strongly at times, swirling snow high into the air. The sun disappeared behind the mass of clouds, but before it did, I checked its direction and that, combined with various directional checks all day, told me the wind was still southeast and I was steering a straight course due south. The wind continued to increase, but not enough to stop travel. The great ugly mass of black clouds in the distance appeared to bee moving closer, but sideways to my path. It looked as if I would catch only the extreme edge of the storm as it went by. Skiing at a two-mile-per-hour pace, I was closing in on the pole. But sometime after four o'clock, I saw to my horror that the boiling mass of thick clouds from the far distance was racing low across the ice behind a great wail of wind-driven snow straight at us. I stopped and, grabbing the bag of ice screws, I quickly anchored everything securely to the ice, starting with Charlie on his chain, then his sled, then my larger, higher sled anchored at both ends. It would be our only protection from the full blast of the wind. I shoved my arms into my down parka and stuffed my overbites into the pockets. Then, with everything as ready and as secure as it could be, I hurriedly took the tent out. There was no time to put it up, but I knew I could wrap it around me as I sheltered with Charlie behind my sled. Pulling the sled bag zipper closed, I was about to tighten a tie-down rope when I heard a sound like an approaching jet as the wind bore down on us with maniacal force. I raced toward the sheltered side of the sled, clutching the tent to my chest, but had only taken a stride or two when the wind plowed into my body, throwing me off my feet and down onto the ice with such a bone-jarring thud that my goggles were knocked off. As I slithered to a stop, still clutching the tent to my chest, my bare face and eyes were blasted and stung by particles of flying ice. Hardly able to see or breathe in the violence of the storm that seemed to suck the air out of my lungs, I looked across to Charlie, dreading that I might see him airborne. But I had anchored him well and he was crouched down, protected by my sled. I scrambled to my sled, half crawling in the hellish wind that was blowing gear away into the unknown. The loose tie-down rope had allowed the zipper to be blasted open and the wind was tearing at the contents of the sled bag, almost ripping it off the sled. Grabbing the zipper I yanked it shut, pulled the tie-down rope tight, then dove over the top of the sled to join Charlie on the other side. It was with a certain amount of dread that I unzipped the sled bag. My worse fears were realized. All my food, except one small bag of walnuts in my day food bag tucked down in the front of the sled, had been blown away, along with most of the fuel, a pair of crampons, two fuel bottles, the spare stove, a few items of clothing, and assorted odds and ends. I went outside to check Charlie's sled. It was covered with drifted snow but still tied securely to the ice screw. It had flipped upside down, jarring a rope loose and allowing several sacks of food to be blown away. It would take seven more days to reach the pole and then get to the pickup point at Helena Island. I figured Charlie had enough food left for half rations for eight days. It was one thing for me to go hungry and thirsty, but a food shortage for Charlie was a different matter. However, he was in better shape, with more weight on him than when we left base camp. I had fed him well and he had learned to drink more water, so I reasoned he would be all right on half rations and could go back to eating ice for the seven days. Inuit dogs are used to frequent periods of starvation and have learned over many generations to survive under conditions much harsher than the ones we faced now. I hated to ask Charlie to go to half rations, but I knew that he would endure it, just as he had endured so much else on this journey. Having assured myself that Charlie would be safe, I turned to my remaining food supply. I counted out five handfuls of walnuts for seven days.
. . . . . . . . . . . . . . . . . . . . . . . . . . . . . . . . . . . . . . . . . . . . . .
The temperature was plus 16 degrees, the highest of the entire journey, but it was snowing and the poor visibility was made worse by my eye problem. I returned to the tent with a heavy heart. Somehow I had to get going. I simply didn't have enough food to wait, I melted enough ice for my day's ration of one pint and I drank half but left the handful of walnuts until later. There was nothing to do until conditions improved. So, hoping that sleep would help my eyes and take my mind off my hunger while conserving calories, I climbed into my sleeping bag to sleep the time away. At ten the tent sat ghostlike in a gray, silent fog that had quietly settled over everything like a soft blanket. Charlie sat in the doorway looking around, then, apparently deciding he wasn't going anywhere, he returned to his spot in the tent beside me and went back to sleep. I had to agree with him. The prospects for travel didn't look good. Shortly before noon the sun peeped through, then the fog rolled away on a light southerly breeze. We could leave after I made a directional check of the sun for north and south from the LAN chart and sun-shadow dial. In order to save my eyes, rather than look at the sun as I took a reading, I used a fine piece of wire I carried for the task. It threw a thin shadow that showed the exact directional line of the sun. Now that I had realigned myself with north and south and determined that the wind came from due south, l knew which di- rection to travel. I was only two mites away from the pole. After eating my walnuts, which didn't satisfy the hunger that had begun the night before, I set off with Charlie at my side. I was wearing my spare pair of goggles. The lenses of the pair I had lost were darker, but I was thankful for my habit of carrying a spare pair on all expeditions. Without goggles uncovered eyes are burned by the sun and glare, causing snowblindness. That was the last thing I needed to add to my eye problem. My eyes and hunger seemed unimportant as I eagerly anticipated our arrival at the pole. This was to be the day. I kept checking the counter on the sled distance measuring wheel. At last it read two milks and I knew we had reached our destination. I confirmed my position with a satellite reading from my GPS unit. Then I hugged Charlie and it was time to celebrate. I set the camera on its tripod and took several photos of us standing there at the pole with the United States flag and the Canadian flag, because the pole is in Canadian territory, and then the New Zealand flag for the country of my birth, flying from a ski pole in the wind. It was one of the happiest moments of my life. I had overcome all that the Arctic had thrown at me and reached my goal. The surrounding ice looked no different from any other, the wind and the isolation were the same, but I had fought hard to get there and winning the fight felt good. That I was the first woman to reach the pole on a solo expedition was unimportant to me. It was the learning experience and the struggle to overcome the challenges that made the journey so rewarding and the prize so precious.
. . . . . . . . . . . . . . . . . . . . . . . . . . . . . . . . . . . . . . . . . . . . . .
At midmorning Charlie woke me when he decided to move all the way into the tent and use my legs as a pillow. The south wind had increased to a brisk breeze, rolling the blanket of fog aside. I fed Charlie, who was in a playful mood, lying on his back for his customary tummy scratch. Then, after a quick eye check, which showed less swelling, l examined the stove for damage and tried to figure out why it had gone up in flames so suddenly. I decided that because of my inability to see, I must not have attached the fuel line properly and the resulting leak had ignited it when I lit the stove. This time l could see and soon had a pan of ice melting. After pouring one pint into my thermos for the day's supply, I drank the leftover cupful, slowly savoring each mouthfu1. Then I took out my precious handful of walnuts and ate half of them, chewing them one at a time in order to prolong my meager meal. I packed and before noon Charlie and I were traveling beneath a canopy of thin, broken clouds and patchy sunshine. I kept looking for signs of lower temperatures and northerly winds, but the weather pattern seemed grooved into its present state of above-zero temperatures and southerly winds. I still kept my right eye covered, but even with goggles on the bright light quickly caused my left eye to water and deteriorate. The wind rapidly picked up, enveloping us in snow. Fresh from the last storm, it hadn't yet been packed by the wind and was blowing around us in a swirling mass. I was traveling slowly, trying to make my eyes work, forcing myself onward. I knew that if I was going to reach my destination my eyes and the weather would have to change fast. My mood was one of frustration and desperation. I skied slower and slower. Then, taking my skis off to prevent a fall over some unseen lump of ice, I walked, pushing myself ahead, knowing that each mile I covered was one mile closer to my destination. My eye was running and the swirling snow was blinding, but I kept on. When my eye became so bad that I could hardly see at all, rather than stop I laid my hand on Charlie's back. If we came to an obstacle, I knew he would go around it and I could follow at his side. He was now my seeing-eye dog and the wind was my direction finder. After five hours we had covered only three miles, a record for slowness. But I thought with some satisfaction that three mites were better than no mites at all. We at least were going somewhere, which was better than sitting in the tent fretting that I wasn't making any progress. Charlie was a champion. He stayed at my side just as he had done for the last twenty-one days and went straight ahead with my hand on his back. When I stopped he stopped. After all those days together he knew the routine and kept on.
. . . . . . . . . . . . . . . . . . . . . . . . . . . . . . . . . . . . . . . . . . . . . .
My raging thirst could no longer be ignored, which meant that I would have to begin eating snow and ice almost constantly as I traveled. As I fed Charlie his breakfast, I found myself looking at his dog food with added interest. A thought came scrambling from the back of my mind that dog food was better than no food at all. But as attractive as the idea was in my now weakening, hungry state I knew it wouldn't be right. When I brought Charlie with me on this expedition, I hadn't asked him if he wanted to come all these mites through storms and the other dangers we had faced. Yet he stayed faithfully at my side, never questioning me as he gave me his unconditional loyalty and trust. He had even saved my life. He was now on half rations, which he didn't appear to mind. He was his usual energetic self, but for me to take a single piece of his food would be a betrayal of his trust. Even if it would help me reach a goal that was important to me, that goal was un- known to him. One reason I pulled my own sled was that I wanted to reach my goal with my own energy, not that of a dog team or machine. Charlie was a companion on this journey. His survival was just as important as mine. The temptation to eat his food left and I felt twinges of guilt that I had even considered it. The wind had turned conveniently southeast so all I had to do was ski straight into it, stopping occasionally to rest and, at noon, to check the sun and wind direc- tion. The wind was strong and I leaned into it, forcing my way through. A layer of fine snow shaped like long, pointed fingers blew along the surface of the ice straight at us, reaching for us before dashing past, always followed by more. Billowing clouds of snow whipped into the air, blasting my body and plastering me with a white layer that froze to my clothing. Charlie's face was snow-covered and his feet were hidden in the blowing surface snow. I longed for the silence of a quiet day but this noisy, boisterous wind was all that was being offered. At least now I didn't have to measure distance. A11 I had to do was head southeast into the wind toward the cliffs of Helena Island. My thirst grew by leaps and bounds. I grabbed snow and stuffed it into my mouth, but it held little moisture, so I stopped to chop small chunks of ice and laid them on top of my sled to be picked up and chewed as I traveled. Craving water, I tried to push from my mind pictures of a clear, sparkling stream running in an endless supply. The ice burned the inside of my mouth, raising blood blisters, but I had to have fluid. I was tempted to stop and drink the last half of my water supply, but I knew that somehow I had to find the discipline to leave it for tonight and eat ice during the day, The strong wind made me work harder and breathe more heavily, causing me to lose even more moisture as I breathed. The desert-dry Arctic air couldn't replace the moisture I lost with each new breath. Still I pressed on, head down into the wind, attempting to keep a steady speed to cover as many miles as possible. Just before midnight and after almost twenty hours of fighting to get through the wind, I finally decided to stop. I had gained another twenty-one tough miles. The wind was over twenty-five miles per hour with gusts well over thirty. The risk of losing the tent in the wind was too great, so I sheltered behind the sled with Charlie while he ate his food and I ate the last of my day's walnuts and drank my last water. It was too windy to light the stove even behind the sled, so I made Charlie comfortable on the sheltered side, checked the tie-down anchors at each end of the sled, and climbed in. After some maneuvering I was able to stretch my five-foot-three-inch frame out and snuggle in with my sleeping bag pulled around me. Not exactly deluxe accommodations, but I was cozy out of the wind and I could take a few hours' break from the struggle to stand upright and move ahead. Even the wind, hunger, and thirst couldn't keep me awake and I drifted into a sound, dreamless sleep.
. . . . . . . . . . . . . . . . . . . . . . . . . . . . . . . . . . . . . . . . . . . . . .
By three o'clock the snow began to ease as the wind came up and the temperature dropped into the minus zero column. Finally, I could see a hundred feet ahead and decided to leave. The weather continued unsettled and I had no guarantee that a storm wouldn't come from the south carried by the tenacious southeasterly. Without the strong wind I could move faster. But my stomach was weaker than yesterday and my mouth was so dry it felt full of cotton. My thoughts were overcome by the need for water. Eating ice wasn't sufficient to stop the onslaught of dehydration. I reasoned that I should be at the pickup point in three more days. I surely could make it. I tried to put the thirst and hunger from my mind, but it was impossible to ignore the craving, especially for water. I turned my thoughts to Helena Island. I should be able to see it today. I wanted to see it, feel it, and set foot on it. Reaching Helena would complete my goal of standing on Sherard Osborn, King Christian, and Helena, the islands surrounding the magnetic North Pole area in 1988. These island goals were just as important to the completion of my expedition as reaching the pole itself. By ten o'clock the hellish wind had returned to torment me. The unceasing noise of the whistling, howling wind, the feel of the wind lashing my body and face without mercy, and a savage hunger and thirst combined to make me dig into a reservoir of strength, discipline, and sheer desire to continue. I dug so deep that I came up with reserves I never knew I had. But they were there and I used every bit of strength to push my weakening body on. I was desperate to make more miles. I simply had to finish the journey now. The end was so near.
. . . . . . . . . . . . . . . . . . . . . . . . . . . . . . . . . . . . . . . . . . . . . .
At seven o'clock there was no wind and the fog began to thin, allowing the sun to filter through. I packed up quickly and headed in the direction of the eastern tip of Helena. My energy level was low and although I tried to hurry I could really only hurry slowly. Charlie was in his usual place at my side and stepped along briskly, wanting to go faster than I could go. He had become used to a good pace, especially when the wind wasn't blowing hard, and now he obviously noted the lack of wind and thought we were moving too slowly. For the first hundred yards he kept looking up at me as if waiting for me to take the hint and get going at a pace more to his liking. I patted his head and tried to explain that this was all I could manage. I chewed ice constantly. Snow didn't taste as cold, but it contained so little water it was almost useless, so I had to keep chewing the colder ice, The blood blisters inside my mouth caused by the burning cold ice were secondary to my raging thirst. One pint of water a day was no match for the long hours of fighting the wind and the sheer exertion of the hard-won mikes. My stomach was so empty that the cold of the ice caused severe cramping, making me double over in pain. So I held the ice in my mouth until it was melted before swallowing. This was my sixth day of low rations and a serious weakness was setting in. It would be important to pace myself. Tiny flakes floated gently on a zigzag path down to the ice, Helena Island disappeared behind the curtain of flakes and I skied slowly in the general direction of Cape Halkett. The afternoon turned into evening and Charlie and I still toiled onward. After stopping for the radio call at eight, we kept on through the falling snow, which sometimes changed to fog. Helena hid from my view, allowing me only an occasional glimpse. After fourteen hours and a gain of twelve mites, I needed to rest. My meager energy stores were depleted. I felt nauseated and weak, and my thirst was a torment. With so little food and water to replenish myself, I would have to get some sleep, which, due to the long days, had also been in short supply. I made camp and with Charlie fed and asleep at my side in the tent, I fell into a restless sleep. I awoke often craving water. Once I went outside to chop ice and crammed it into my mouth to kill the thirst that tormented me. Finaliy, I drank a quarter of a cup of the water I had melted for the next day. It helped, but I did not dare take more because I still had another day of travel ahead, and perhaps more if the weather worsened.
. . . . . . . . . . . . . . . . . . . . . . . . . . . . . . . . . . . . . . . . . . . . . .
I had been able to use the experimental GPS unit only at crucial times, such as my arrival at King Christian, the pole, and then opposite Hosken Islands. Due to short battery life and other limiting factors of the new unit, I couldn't use it more often. But even with the advent of new electronic navigational instruments, the old ways were still reliable. I had relied on basic navigation throughout the journey and it had brought me, even in poor visibility, to where I wanted to be. I couldn't conceal my excitement about having navigated all the way with no mistakes, especially after the last two hours of uncertainty. My excitement gave my thirsty, hungry body a new burst of energy. "We're almost home, Charlie" I said, giving him a long hug. The fog melted away, leaving everything bathed in sunlight. I broke camp and headed toward the three Hosken Islands. In a short time I was standing on the shore of the northern island about four hundred yards across from the unnamed twin peaks, their steep, white-streaked brown sides begging to be climbed. I was tempted but knew in my heart that I had to reserve my waning energy to reach Helena. Reluctantly I turned my back on the two beautiful peaks to look for the nearest smooth ice close to Helena for a landing strip. As I skied toward Helena, I realized I would have to find a landing strip somewhere on the southeast coast of the island. The ice had been too rough along the entire portion of the northern coast. Now I could see that it was even rougher in the narrow channel between Hosken and Helena where the currents played havoc with the ice, turning it into boulder alley. I angled straight down the southeast coast and, after four miles, I found solid, smooth ice, perfect for a plane to land on. I chose a camping spot about two hundred yards off the coast opposite a deep, well-defined frozen river mouth that could easily be seen from the air. I called the charter service and base camp to give them a description of my location. Miraculously, I had completed my journey exactly as I had planned. I had traveled more miles within the pole area than any other expedition. And I had done it alone. I had known that such a journey was possible, but now that it was almost over, I could scarcely believe what I had accomplished. I made the pickup arrangements were made by radio. Ruddi asked me to call at nine o'clock the next morning to give him weather information. Weather permitting, the two pilots hoped to arrive at my location about one o'clock the next afternoon. As I put the tent up, it suddenly struck me that this would be my last camp. I grabbed Charlie happily and told him we were actually going home. It felt unreal. I had only one more task to complete before leaving. I wanted to climb the cliffs of Helena and stand on the high plateau. It was 5:00 P.M., hunger and thirst had caught up with me, and I needed some rest. But I had looked forward for so long to climbing Helena that I decided to do it early in the morning. I would eat my entire day's supply of walnuts before leaving camp for the climb and drink the pint of water on the way up the cliffs. That, l felt, would finish my journey in grand style. About two miles before making camp I had noticed two sets of polar bear tracks, the first in several days. It would be terrible to have to deal with a bear now that we were so close to going home. I hated to do it, but I staked Charlie outside the tent just in case a bear came visiting. He wasn't too thrilled at not being invited into the tent as he had been the last few nights, but he obediently did as I asked.
. . . . . . . . . . . . . . . . . . . . . . . . . . . . . . . . . . . . . . . . . . . . . .
I stuffed a few clothes, my thermos, camera, and odds and ends into a lightweight pack and put it on my back. With the flare gun in my pocket and rifle over one shoulder, I set off toward Helena Island. I planned to walk up the riverbed opposite our camp, climb the steep banks to a five-hundred-foot plateau that was almost a peak, then walk northeast to stand above Cape Halkett. I moved slowly, trying to spread my energy over the whole journey. At least going down would take less energy than climbing up. The handful of walnuts had done nothing to end my hunger. After seven hungry days I felt nauseated if I moved too fast. To make progress, I had to stop frequently and not hurry. The water hadn't relieved my dry mouth and throat, but if I moved slowly I could control my breathing and not lose too much moisture exhaling. In my thirsty, weakened condition, the five-hundred-foot climb to the plateau felt like climbing a twenty-thousand-foot mountain. But it was worth every step. The islands all around me were splendid in the clear morning light. The windswept open sea ice I had traveled both north and south looked boundless and empty beneath the pale blue canopy. I walked another three or four miles across the barren rocky plateau to stand above Cape Halkett. Helena was as rugged and steep as King Christian was flat and gentle. Its high cliffs and plateaus were stripped naked by the wind, and rocks were strewn about covered with lichen that existed in defiance of the violence it endured. King Christian was covered with finer gravel, grayer in color. Here and there a dried stalk of native grass raised its head, a remnant of last summer. Helena's steep-sided rivers carved their way down the cliffs to the sea, whereas the rivers of King Christian resembled grooves in the wide plains as they gently made their way to the coastline that blended almost unnoticed with the sea. With one last look north across the gleaming white ice that Charlie and I had spent so many days crossing, I turned to leave with a reluctance that surprised me. But glancing down at my tent, which looked very small a long way below us, I knew I had to return to the business at hand. I had to be back in time for the 9:00 A.M. radio call, pack the remaining gear, and get ready to greet the plane. Just before 1:00 P.M., the call sign of the aircraft came over the radio. Delta, November, Delta. The plane was on its way and approaching. Very soon a Twin Otter aircraft on skis flew low along the coast and dipped its wings. It circled wide and landed. As it taxied toward me, I took my tent down for the final time and stuffed it into the sled. The radio went on top. The pilot and copilot jumped out and greeted us. Charlie remained completely unperturbed as he was carefully loaded aboard along with our sleds. After the pilot handed me sandwiches and juice, we took off in a cloud of propeller-blown snow. I drank the juice and hungrily started on the sandwiches after giving one to Charlie. Each swallow brought back energy I hadn't felt in seven days. I realized as I gobbled the food and drink that I must be eating the pilot's lunch. But in my starving, dehydrated state, I chose not to ask. I wasn't about to add a guilty conscience to my hunger and thirst. As we flew back over the ice to the Polaris mine, I looked down, straining to see any sign of my tracks or even a campsite. There was none. The wind had swept all away as if l had never been there, Perhaps it was better that way. After all, I had been merely a visitor passing through. But if no sign of my journey remained, the awesome presence of the Arctic would never leave my memory. And now Charlie and I, after 364 miles and twenty-seven days, were going home.
Back to Journals Index